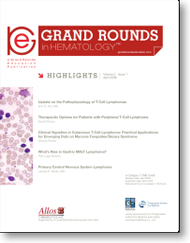 T-Cell and B-Cell Non-Hodgkin's Lymphoma Revisited: Therapeutic Paradigms and Advances
Introduction by issue editor Randy D. Gascoyne
This issue of Grand Rounds in Hematology covers a number of diverse topics related to the diagnosis and treatment of and T-cell lymphomas and highlights an evening educational session at the recent American Society of Hematology meeting in San Francisco. Several key opinion leaders in the fi eld gathered to present their thoughts on a number of topics, including the pathophysiology of T-cell lymphoproliferative disorders, current treatment options for patients with peripheral T-cell lymphomas (PTCL), treatment strategies for patients with cutaneous T-cell lymphomas (Mycosis fungoides and Sézary syndrome), an overview of the biology and treatment options for extranodal gastric marginal zone lymphomas of mucosalassociated lymphoid tissue (MALT), and fi nally approaches to the treatment of primary central nervous system lymphomas (PCNSL).
Dr. Eric Hsi, a hematopathologist and head of Hematopathology at the Cleveland Clinic, provided a concise overview of T-cell ontogeny and how knowledge of T-cell development adds texture to the classification scheme used in the new 2008 World Health Organization (WHO) classification for PTCLs. Through the use of illustrative case examples, he walked the audience through the steps required to render an accurate diagnosis for this uncommon group of tumors.
Dr. David Straus from Memorial Sloan- Kettering Cancer Center in New York discussed conventional and new treatment approaches to this group of aggressive tumors. Patients with PTCLs are typically more difficult to treat than age- and stage-matched patients with diffuse large B-cell lymphoma. Newer treatment strategies include both novel chemotherapy agents and a growing list of biological agents, including monoclonal antibodies. In contrast to the great strides made in improving the lives of patients with diffuse large B-cell lymphoma following the addition of rituximab to conventional chemotherapy, the treatment of PTCL patients is clearly in need of significant improvements.
Dr. Steve Rosen, head of the Robert H. Lurie Comprehensive Cancer Center at Northwestern in Chicago, has enjoyed a career-long interest in cutaneous T-cell lymphomas (CTCL). By using clinical vignettes, he nicely covered the breadth of treatment choices for patients with this disfiguring form of cancer, with emphasis on practical approaches to the myriad of complications experienced by these patients.
Dr. Pier Luigi Zinzani from the Institute of Hematology and Oncology in Bologna, Italy, discussed both the pathogenesis and treatment options for patients with gastric MALT lymphomas. He explored a number of therapeutic options for gastric MALT lymphoma including antibiotic therapy, surgery, radiation, and newer immunochemotherapy alternatives that include anti-CD20 (rituximab) in combination with conventional chemotherapy.
Lastly, Dr. Lauren Abrey from Memorial Sloan-Kettering Cancer Center in New York, a well recognized expert in the field of PCNSL, discussed an approach to the diagnosis and treatment options for patients with these disorders. Choices of treatment strategies were supported by numerous survival curves that clearly supported her conclusions for both standard therapy and emerging novel approaches to the treatment of PCNSL.
---
Download a PDF version of the full issue.