A MEDICAL EDUCATION COMMUNITY FOR HEMATOLOGISTS AND ONCOLOGISTS
Accredited for a maximum of 1.0 AMA PRA Category 1 Credit™
Advances in multiple myeloma (MM) management have equipped oncology health care providers with the tools and strategies for achieving treatment responses in up to 100% of patients, with as many as 80% reaching a complete response (CR). However, achieving a CR does not always predict long-term survival, and most patients ultimately relapse as a result of the persistence of minimal residual disease (MRD) after treatment. MRD cannot be detected with conventional, low-sensitivity evaluation methods; technologies to quantify low-level disease burden remain an urgent clinical need. Also critical to improving response assessment is incorporating more sensitive methods for detecting MRD, as a growing body of evidence suggests that MRD negativity is a predictor of better clinical outcomes. MRD monitoring may allow clinicians to stratify risk and tailor treatments to patients more effectively than can be accomplished by current standards.
Accredited for 1 CME Credit
The goal of this educational program is to improve the treatment of patients with multiple myeloma (MM) and non-hodgkin lymphoma (NHL) through the dissemination of information about stem cell transplantation and mobilization for autologous hematopoietic cell transplantation. The data for stem cell transplantation in MM is rapidly changing. The techniques of mobilization are still evolving. There is considerable debate regarding the timing and number of transplants for MM and the indications for transplant in NHL. The optimal use of transplant in the disease course and appropriate mobilization could drastically change the treatment of MM and NHL.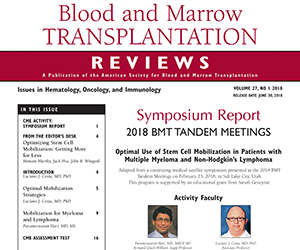 Release Date: June 30, 2018
Expiration Date: June 30, 2019
TOPICS IN HEMATOLOGY
Browse Bloodline Webinars & Resources