A MEDICAL EDUCATION COMMUNITY FOR HEMATOLOGISTS AND ONCOLOGISTS
Accredited for 1 CME Credit
The goal of this educational program is to improve the treatment of patients with multiple myeloma (MM) and non-hodgkin lymphoma (NHL) through the dissemination of information about stem cell transplantation and mobilization for autologous hematopoietic cell transplantation. The data for stem cell transplantation in MM is rapidly changing. The techniques of mobilization are still evolving. There is considerable debate regarding the timing and number of transplants for MM and the indications for transplant in NHL. The optimal use of transplant in the disease course and appropriate mobilization could drastically change the treatment of MM and NHL.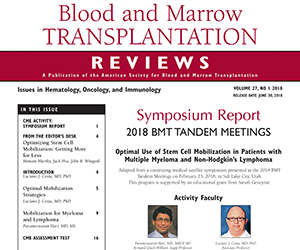 Release Date: June 30, 2018
Expiration Date: June 30, 2019
TOPICS IN HEMATOLOGY
Browse Bloodline Webinars & Resources