Changing Treatment Algorithms in the Management of Multiple Myeloma: In with the New, But Not Out with the Old
Maxim Norkin, MD and John R. Wingard, MD, University of Florida College of Medicine, Gainesville, FL
The introduction of novel treatments over the last decade has significantly improved clinical outcomes in patients with multiple myeloma (MM). Unprecedentedly high rates of durable responses to new chemotherapy regimens have translated to significant improvements in overall survival (OS) , which is now often exceeds 10 years. However, due to high volume of new research data and great variety of available therapeutic approaches it is often difficult for a practicing physician to incorporate new drugs into practice and to select the optimal state-of-the-art approach for each MM patient. Recent advances in initial management and treatment of relapsed disease were the topic in a satellite symposium held in February 2016 at the Tandem BMT meetings in Honolulu, Hawaii.
Initial management of patients with MM with an emphasis on pivotal trials of emergent therapies and the role of autologous stem cell transplant (ASCT) was discussed by Dr. Ken Anderson. He focused on newly diagnosed ASCT-eligible patients with MM. He reviewed recent studies addressing the role of ASCT in patients receiving novel multidrug therapies. Use of high-dose melphalan with ASCT in conjunction with novel anti-myeloma drugs has been associated with clinically significant progression free survival (PFS) benefits across all reviewed studies, and OS improvement in some studies. Triplet induction regimens have generally been found to be more effective than doublet regimens, but may also be associated with greater toxicity. Post-transplant consolidation and maintenance approaches have been associated with higher rates of minimal residual disease negativity and improvement of PFS, but these have not always translated into better OS. Although early ASCT (within 12 months after diagnosis) is currently regarded as standard of care in transplant-eligible patients, the possibility of delayed ASCT (>12 months after diagnosis) is now being investigated to define the most optimal timing for ASCT. Novel drugs such as ixazomib, daratumumab, elatumumab or panobinostat were recently approved in relapsed disease settings and further studies are needed to study their role in newly diagnosed MM. He notes that promising classes of drugs such as checkpoint inhibitors and myeloma cell vaccines are in the pipeline. Taken together, these various studies suggest that the old (ASCT) remains part of the standard of care in transplant-eligible patients with newly diagnosed MM and the new (novel therapies before and after ASCT) are playing growing roles in enhancing long-term benefits.
Dr. Joseph Mikhael discussed current management of patients with relapsed MM. With four new drugs approved (panobinostat, daratumumab, elotuzumab, ixazomib) for relapsed MM in 2015, there are more treatment options available for these patients. Dr. Mikhael discussed the results of the pivotal trials that led to their approval. He noted there remains roles for older therapies including alkylating agents and second ASCT for subsets of patients. He suggested a risk-adjusted approach, such as the Mayo Clinic stratification algorithm for risk-adapted therapy for MM patients, might be useful in selecting treatments for the relapsed patient.
For both initial management and for treatment of the patient with relapsed disease, novel therapies are improving the prospects for patients with MM. Yet there remain important roles for therapies that have been around for some time. Taken together, combining the new with the old provides patients with multiple options for disease control.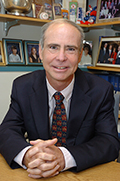 Kenneth C. Anderson, MD
Kraft Family Professor of Medicine, Harvard Medical School
Director, Jerome Lipper Multiple Myeloma Center and LeBow Institute for Myeloma Therapeutics
Dana-Farber Cancer Institute
Boston, MA
Kenneth C. Anderson, MD, is the Kraft Family Professor of Medicine at Harvard Medical School, as well as director of the Lebow Institute for Myeloma Therapeutics and Jerome Lipper Multiple Myeloma Center at Dana-Farber Cancer Institute. He is a Doris Duke Distinguished Clinical Research Scientist and American Cancer Society Clinical Research Professor. After graduating from Johns Hopkins Medical School, Dr. Anderson trained in internal medicine at Johns Hopkins Hospital, and then completed hematology, medical oncology, and tumor immunology training at the Dana-Farber Cancer Institute.
Over the last 3 decades, Dr. Anderson has focused his laboratory and clinical research studies on multiple myeloma. He has developed laboratory and animal models of the tumor in its microenvironment that have allowed for both identification of novel targets and validation of novel targeted therapies, and has then rapidly translated these studies to clinical trials culminating in FDA approval of novel targeted therapies. His paradigm for identifying and validating targets in the tumor cell and its milieu has transformed myeloma therapy and markedly improved patient outcome.
Dr. Anderson is the recipient of many scientific and humanitarian awards, including the International Myeloma Workshop Waldenstrom's Award; the International Myeloma Foundation Robert A. Kyle Lifetime Achievement Award; and the American Association for Cancer Research Joseph H. Burchenal Award. He served as president of the International Myeloma Society and is president-elect of the American Society of Hematology.
---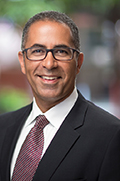 Joseph R. Mikhael, MD, MEd, FRCPC, FACP
Professor of Medicine, Mayo College of Medicine
Associate Dean, Mayo School of Graduate Medical Education
Deputy Director – Education, Mayo Clinic Cancer Center
Associate Medical Director, Department of Development
Mayo Clinic in Arizona
Scottsdale, AZ

Joseph R. Mikhael, MD, MEd, FRCPC, FACP, is a consultant hematologist and medical director of development for Mayo Clinic in Arizona. He also serves as the enterprise-wide deputy director – education of the Mayo Clinic Cancer Center. Dr. Mikhael completed his medical school and internal medicine training at the University of Ottawa, Canada. He then received his hematology training, followed by a master's degree in education, at the University of Toronto. After completing a multiple myeloma fellowship at Princess Margaret Hospital, he served as a staff physician both there and at Toronto General Hospital, after which time he moved to Arizona to work at Mayo Clinic. Dr. Mikhael specializes clinically in plasma cell disorders; namely, multiple myeloma, amyloidosis, and Waldenstrom's macroglobulinemia.
Dr. Mikhael is a professor at the Mayo College of Medicine, associate dean of Graduate Medical Education at Mayo Clinic in Arizona, and associate chair of Education for the Department of Medicine. He is deeply involved in training future researchers and mentors junior hematologists nationwide. Dr. Mikhael is chair of the American Society of Hematology Clinical Research Training Institute (CRTI), a week-long intense course designed to train up-and-coming clinical researchers in blood diseases and cancer. He has been recognized with numerous awards in education and included in the Mayo Clinic Resident and Fellow Association Hall of Fame as Educator of the Year.
Dr. Mikhael is currently the principal investigator on many clinical trials, primarily in multiple myeloma, and is an active member of the International Myeloma Working Group. His clinical research interests also include pharmaco-economics. He has published over 85 peer-reviewed articles and lectures internationally on a regular basis.
Thank you for participating in the CME activity. In order to obtain 1.0 AMA PRA Category 1 Credit™ you must:
Read the learning objectives;
Read the articles and study the tables and figures in this publication;
Register and complete this posttest online;
Complete the application for CME credit and the activity evaluation form online.
For CME credit, visit Medical College of Wisconsin. Immediately upon passing the online test, you will get your certificate via email.