Dr. Anderson and Dr. Mikhael presented, "Management of Multiple Myeloma: Using Emerging Therapies with ASCT" in conjunction with the BMT Tandem Meetings 2016 on Friday, February 19, 2016.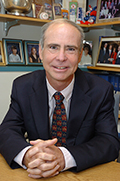 Kenneth C. Anderson, MD
Kraft Family Professor of Medicine, Harvard Medical School
Director, Jerome Lipper Multiple Myeloma Center and
LeBow Institute for Myeloma Therapeutics
Dana-Farber Cancer Institute
Boston, MA
Kenneth C. Anderson, MD, is the Kraft Family Professor of Medicine at Harvard Medical School, as well as director of the Lebow Institute for Myeloma Therapeutics and Jerome Lipper Multiple Myeloma Center at Dana-Farber Cancer Institute. He is a Doris Duke Distinguished Clinical Research Scientist and American Cancer Society Clinical Research Professor. After graduating from Johns Hopkins Medical School, Dr. Anderson trained in internal medicine at Johns Hopkins Hospital, and then completed hematology, medical oncology, and tumor immunology training at the Dana-Farber Cancer Institute.
Over the last 3 decades, Dr. Anderson has focused his laboratory and clinical research studies on multiple myeloma. He has developed laboratory and animal models of the tumor in its microenvironment that have allowed for both identification of novel targets and validation of novel targeted therapies, and has then rapidly translated these studies to clinical trials culminating in FDA approval of novel targeted therapies. His paradigm for identifying and validating targets in the tumor cell and its milieu has transformed myeloma therapy and markedly improved patient outcome.
Dr. Anderson is the recipient of many scientific and humanitarian awards, including the International Myeloma Workshop Waldenstrom's Award; the International Myeloma Foundation Robert A. Kyle Lifetime Achievement Award; and the American Association for Cancer Research Joseph H. Burchenal Award. He served as president of the International Myeloma Society and is president-elect of the American Society of Hematology.
---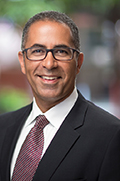 Joseph R. Mikhael, MD, MEd, FRCPC, FACP
Professor of Medicine, Mayo College of Medicine
Associate Dean, Mayo School of Graduate Medical Education
Deputy Director – Education, Mayo Clinic Cancer Center
Associate Medical Director, Department of Development Mayo Clinic in Arizona
Scottsdale, AZ

Joseph R. Mikhael, MD, MEd, FRCPC, FACP, is a consultant hematologist and medical director of development for Mayo Clinic in Arizona. He also serves as the enterprise-wide deputy director – education of the Mayo Clinic Cancer Center. Dr. Mikhael completed his medical school and internal medicine training at the University of Ottawa, Canada. He then received his hematology training, followed by a master's degree in education, at the University of Toronto. After completing a multiple myeloma fellowship at Princess Margaret Hospital, he served as a staff physician both there and at Toronto General Hospital, after which time he moved to Arizona to work at Mayo Clinic. Dr. Mikhael specializes clinically in plasma cell disorders; namely, multiple myeloma, amyloidosis, and Waldenstrom's macroglobulinemia.
Dr. Mikhael is a professor at the Mayo College of Medicine, associate dean of Graduate Medical Education at Mayo Clinic in Arizona, and associate chair of Education for the Department of Medicine. He is deeply involved in training future researchers and mentors junior hematologists nationwide. Dr. Mikhael is chair of the American Society of Hematology Clinical Research Training Institute (CRTI), a week-long intense course designed to train up-and-coming clinical researchers in blood diseases and cancer. He has been recognized with numerous awards in education and included in the Mayo Clinic Resident and Fellow Association Hall of Fame as Educator of the Year.
Dr. Mikhael is currently the principal investigator on many clinical trials, primarily in multiple myeloma, and is an active member of the International Myeloma Working Group. His clinical research interests also include pharmaco-economics. He has published over 85 peer-reviewed articles and lectures internationally on a regular basis.
Thank you for participating in the CME activity.
For CME credit, visit Medical College of Wisconsin. Immediately upon passing the online test, you will get your certificate via email.