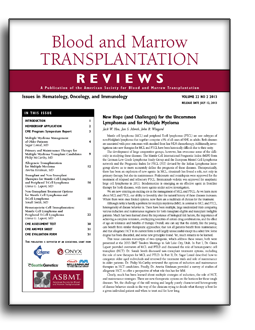 New Hope (and Challenges) for the Uncommon Lymphomas and for Multiple Myeloma
by Jack W. Hsu, Jan S. Moreb, and John R. Wingard
Mantle cell lymphoma (MCL) and peripheral T-cell lymphomas (PTCL) are rare subtypes of non-Hodgkin's lymphoma that together comprise <5% of all cases of NHL in adults. Both diseases are associated with poor outcomes with standard front line NLH chemotherapy. Additionally, investigations into new therapies for MCL and PTCL have been historically difficult due to their rarity.
The development of large cooperative groups, however, has overcome some of the difficulty in studying these diseases. The Mantle Cell International Prognostic Index (MIPI) from the German Low Grade Lymphoma Study Group and the European Mantel Cell Lymphoma network and the Prognostic Index for PTCL (PIT) devised by the Italian Lymphoma Intergroup allows us to more accurately define the prognosis of these diseases. Therapeutically, there has been an explosion of new agents. In MCL, rituximab has found a role, not only in primary therapy, but also in maintenance. Pralatrexate and romidepsin were approved for the treatment of relapsed and refractory PTCL. Brentuxmab vedotin was approved for anaplastic large cell lymphoma in 2011. Bendamustine is emerging as an effective agent in frontline therapy for both diseases, with more agents under active investigation.
We are now entering an exciting era in the management of MCL and PTCL. As we learn more about MCL and PTCL, our ability to favorably alter the natural history of these diseases increases. Where there were once limited options, now there are a multitude of choices for the treatment.
Although rarity is hardly a problem for multiple myeloma (MM), in contrast to MCL and PTCL, heterogeneity of disease behavior is. There have been multiple, large randomized trials comparing various induction and maintenance regimens for both transplant eligible and transplant ineligible patients. Much has been learned about the importance of biological risk factors, the importance of achieving a complete remission, overlapping toxicities of certain drug combinations, and the effect of age on tolerance and benefits of therapy. Overall, one can say that the elderly, like the young, can benefit from similar therapeutic approaches; that not all patients benefit from maintenance; and that allogeneic HCT in its current form is still largely unsuccessful except in a select few. Some dogma has been discarded, and some new principles found. Yet, much remains to be learned.
This issue contains transcripts of two symposia, which address these issues; both were presented at the 2013 BMT Tandem Meetings in Salt Lake City, Utah. In Part I, Dr. Ginna Laport provided overviews of MCL and PTLD and discussed the role of hematopoietic cell transplant (HCT). Dr. Sonali Smith discussed non-transplant treatment options, including the role of new therapies for MCL and PTLD. In Part II, Dr. Sagar Lonial described how to categorize older aged individuals and reviewed the treatment trials and role of maintenance in older patients. Dr. Philip McCarthy reviewed the options of induction and maintenance therapies in HCT candidates. Finally, Dr. Amrita Krishnan provided a survey of studies of allogeneic HCT, to offer a perspective of what role this has for MM.
Clearly, much has been learned about multiple strategies of induction, the role of HCT, and maintenance strategies. There are new therapeutic options on the horizon for these tough diseases. Yet, the challenge of the still vexing and largely poorly characterized heterogeneity of disease behavior stands in the way of the clinician trying to decide what therapy is best for a given individual patient and when to treat and for how long.
---
Download a PDF version of the full issue