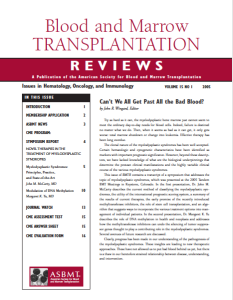 Can't We All Get Past All the Bad Blood?
by John R. Wingard, Editor 
Try as hard as it can, the myelodysplastic bone marrow just cannot seem to meet the ordinary day-to-day needs for blood cells. Indeed, failure is destined no matter what we do. Then, when it seems as bad as it can get, it only gets worse: total marrow shutdown or change into leukemia. Effective therapy has been long overdue.
The clonal nature of the myelodysplastic syndromes has been well accepted. Certain hematologic and cytogenetic characteristics have been identified as markers with important prognostic significance. However, beyond these descriptors, we have lacked knowledge of what are the biological underpinnings that determine the protean clinical manifestations and the highly variable clinical course of the various myelodysplastic syndromes.
This issue of BMTR contains a transcript of a symposium that addresses the topic of myelodysplastic syndromes, which was presented at the 2005 Tandem BMT Meetings in Keystone, Colorado. In the first presentation, Dr. John M. McCarty describes the current method of classifying the myelodysplastic syndromes, the utility of the international prognostic scoring system, a summary of the results of current therapies, the early promise of the recently introduced methyltransferase inhibitors, the role of stem cell transplantation, and an algorithm that suggests ways to incorporate the various treatment options into management of individual patients. In the second presentation, Dr. Margaret K. Yu describes the role of DNA methylation in health and neoplasia and addresses how the methyltransferase inhibitors can undo the silencing of tumor suppressor genes thought to play a contributing role in the myelodysplastic syndromes. Several avenues of future research are discussed.
Clearly, progress has been made in our understanding of the pathogenesis of the myelodysplastic syndromes. These insights are leading to new therapeutic approaches. These have not allowed us to put bad blood behind us yet, but there is a thaw in our heretofore strained relationship between disease, understanding, and intervention.
---
Download a PDF version of the full issue.