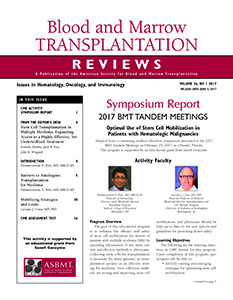 Click here to download PDF.
Stem Cell Transplantation in Multiple Myeloma: Expanding Access to a Highly Effective, Yet Underutilized Treatment
Hemant Murthy, MD, Jack W. Hsu, MD, and John R. Wingard, MD
Multiple myeloma remains an incurable illness however, the future is bright as continued progress is made. Once a disease whose life expectancy could only be measured in weeks, we now routinely speak of survival with myeloma in years. The introduction of novel therapies has resulted in deeper remissions following induction, prolonged survival with maintenance therapy, and improved responses in relapsed setting.
Despite novel therapies, autologous stem cell transplant remains a cornerstone of myeloma therapy, adding incremental benefits to the novel therapies. Multiple prospective, randomized controlled trials have shown improvement in progression free survivals in newly diagnosed myeloma patients who received autologous transplant consolidation versus novel therapies alone. This can be in large part attributed to incorporation of these novel therapies with autologous transplant, as well as continued advances in supportive care associated with stem cell collection and transplantation.
However, autologous stem cell transplantation is still underutilized in the management of patients with multiple myeloma. Efforts are needed to enhance access to this important modality of treatment to mirror the efforts made to enhance the efficacy of treatments. One large barrier to access to autologous transplantation centers around referral practices. Age and comorbidities may unduly restrict one's ability to receive a transplant if a referral is not made. Economic, racial, and other social barriers may unknowingly exist as well as apparent barriers to referral to transplant centers. Another significant barrier exists once a transplant is planned with regards to mobilization of hematopoietic stem cells. Late referrals to transplant centers, prolonged exposure to therapies which may impact mobilization and lack of early consideration of autologous transplantation when creating treatment algorithms may often complicate the ability to organize transplantation and remove a therapy which can significantly improve outcomes. Even when planned accordingly, however, strategies to prevent and overcome mobilization failure are still necessary. With the availability of plerixafor and the use of pre-apheresis circulating CD34+ cell concentrations, our ability to identify patients at high risk for mobilization failure is enhanced, and potentially preventable. The availability of pegfilgrastim and biosimilars, in addition to other mobilization strategies, has further complicated the issue of determining the optimal regimen for mobilization and fostered the need for more studies to inform consensus guidelines.
In this issue, Dr. Parameswaran N. Hari describes the patterns and causes for underutilization of autologous transplantation and strategies to overcome this, while Dr. Luciano J. Costa reviews the current concepts and strategies in stem cell mobilization, which are critical for successful stem cell transplantation. With continued efforts to remove barriers and improve access to transplantation, these clinical advancements and improved outcomes can hopefully be experienced by many more affected by myeloma today.

Parameswaran N. Hari, MD, MRCP, MS
Professor of Hematology
Director, Adult Blood and Marrow Transplant Program
Medical College of Wisconsin
Milwaukee, WI
---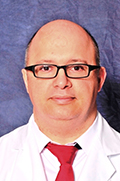 Luciano J. Costa, MD, PhD
Associate Professor of Medicine
Blood and Marrow Transplantation and Cell Therapy Program
University of Alabama at Birmingham
Birmingham, AL
Thank you for participating in the CME activity. In order to obtain 1.0 AMA PRA Category 1 Credit™ you must:
Read the learning objectives;
Read the articles and study the tables and figures in this publication;
Register and complete this posttest online;
Complete the application for CME credit and the activity evaluation form online.
For CME credit, visit Medical College of Wisconsin. Immediately upon passing the online test, you will get your certificate via email.