Blood and Marrow Transplantation Reviews: Volume 27, Issue 1
Optimizing Stem Cell Mobilization:  Getting More for Less
Hemant Murthy, MD, Jack W. Hsu, MD, and John R. Wingard, MD
Autologous stem cell transplantation (ASCT) is an established standard of care treatment to improve survival in multiple myeloma and non-Hodgkin's lymphoma.
While much emphasis is placed on improving the efficacy of ASCT via disease specific interventions, the contribution of stem cell mobilization is often overlooked. The benefits of ASCT cannot be achieved without a successful stem cell mobilization, so efforts must also be focused on optimizing stem cell mobilization.  With increasing demand for apheresis and limited budgets, it is important to find strategies to optimize mobilization in a cost-conscious manner. Ideally, the goal is that nobody will be denied a survival-enhancing transplant due to inadequate stem cell mobilization
Multiple approaches have been evaluated to optimize successful mobilization of stem cells and each strategy has its own unique set of benefits and pitfalls. The traditional approach of growth factors with or without chemotherapy can yield suboptimal collections in a significant number of patients, depending on disease type with failure rates of 9-18%.  Chemomobilization, depending on the agent used, may be a more effective strategy from a standpoint of optimal stem cell collection, but has been limited by increased toxicities. Development of new mobilizing agents, such as plerixafor, have improved our ability to successfully mobilize patients, although cost poses a significant drawback. Alternatives to filgrastim, such as pegfilgrastim and TBO-filgrastim, may reduce costs or patient discomfort without altering mobilization effectiveness.
Fundamental questions still exist regarding goals and strategies on how to best mobilize patients. The optimal cell dose for a single autologous transplant is still an unanswered question. A particular mobilization strategy appropriate for a myeloma patient may not be optimal for a patient with lymphoma. Concerns about cost as well as availability of apheresis time also deserve consideration in choosing a mobilization regimen.
Efforts to optimize stem cell mobilization can be separated into two approaches, one being the development and validation of new agents for stem cell mobilization, such BL-8040. The other approach, and the focus of this review, is utilizing our current knowledge to construct decision algorithms to allow individualism of the best approach for each patient.  Identifying optimal cell dose targets, recognizing risk factors for mobilization failures, and creating risk adapted approaches are just some of the strategies being developed based on our current knowledge.
This issue contains a transcript of a symposium presented at the BMT Tandem Transplant meeting at Salt Lake City in February 2018.  Dr. Luciano Costa discusses the mechanism of mobilization and various mobilization strategies, including benefits and risks, while also accounting for disease and other risks for mobilization failure. Dr. Parameswaran Hari details  specific issues in patients with multiple myeloma and lymphoma as well as the issue of stem cell remobilization. Both discuss and detail consensus guidelines and considerations for stem cell mobilization in current day practice.
Determination of the optimal mobilization strategy for a patient can be complicated.  Our challenge is to get the most stem cells possible for less:  less expense, less chance for failure, less toxicity,  less hassle.
Parameswaran N. Hari, MD, MRCP, MS
Armand Quick-William Stapp Professor of Hematology
Interim Chief Hematology and Oncology
Medical College of Wisconsin
Milwaukee, WI
---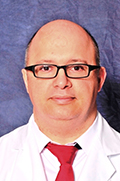 Luciano J. Costa, MD, PhD
Associate Professor of Medicine Blood and Marrow Transplantation and
Cell Therapy Program
University of Alabama at Birmingham
Birmingham, AL
Thank you for participating in the CME activity. In order to obtain 1.0 AMA PRA Category 1 Credit™ you must:
Read the learning objectives;
Read the articles and study the tables and figures in this publication;
Register and complete this posttest online;
Complete the application for CME credit and the activity evaluation form online.
For CME credit, visit Medical College of Wisconsin. Immediately upon passing the online test, you will get your certificate via email.