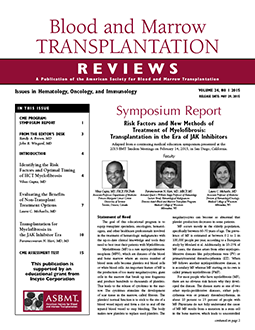 Myelofibrosis: To JAK and Back?
by Randy A. Brown and John R. Wingard
Although myelofibrosis (MF) is the least common of the myeloproliferative neoplasms, it is the most lethal with a median survival of only 3-5 years. Cytopenias and leukemic transformation are the major causes of death. For many years palliation of symptoms with alkylating agents or hydroxyurea was the only therapy available and this had little or no effect on the survival of patients with MF.
Stem cell transplantation was the first major step forward in the treatment of this disease. Early retrospective analysis using myeloablative preparative regimens demonstrated that 40-50% of patients achieved 3-5 year disease-free survival with late relapse being uncommon. However, transplant related mortality (TRM) was as high as 50% so that this procedure was limited to younger patients without major comorbidity's. Given that the median age of patients with MF is around 65 years, transplant was applicable to a small minority of patients.
Limited therapeutic options and the hope of developing highly effective targeted therapy led to great excitement when, in 2005, the JAK-2 V617F mutation was described in the majority of patients with MF. Ruxolitinib, a selective inhibitor of JAK 1 and 2 entered clinical trials soon thereafter. Two pivotal, randomized trials (COMFORT 1 and 2) were carried out and demonstrated that durable reduction in spleen volume and symptom scores were significantly more common with ruxolitinib compared with the control arms. Based on these results, ruxolitinib became the first FDA approved treatment for MF in 2011.
Unlike imatinib in CML however, ruxolitinib does not produce remission in patients with MF and there is no evidence that this drug alters the course of the disease. Cytopenia often worsens, fibrosis persists and there is no evidence that the risk of leukemic transformation is reduced. In the COMFORT trials, with a median follow-up of 3 years, only 50% of all patients remained on the drug due to toxicity or progression. In short, while ruxolitinib may be more effective at relieving symptoms than hydroxyurea, it is nonetheless palliative care. Further, for MF patients with high-risk features and for those with severe cytopenias, we are "back" to transplant as the most effective approach.
The current issue of Blood and Marrow Transplantation Reviews provides a concise review of current therapeutic options for MF in the era of JAK-2 inhibitors. Dr. Gupta starts by reviewing prognostic models that allow physicians to make decisions about the optimal timing of transplant in patients with MF. Next, Dr. Michaelis examines risk stratification tools in the context of novel conventional therapies. Finally, Dr. Hari addresses current approaches to stem cell transplantation in MF, including the role of reduced intensity preparative regimens and the use of novel agents to improve outcomes.
---
Download a PDF version of the full issue.