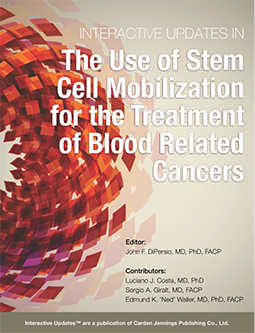 New Multi-Touch iBook® Textbook Now Available for free from the Apple® iBookstore
Carden Jennings Publishing Co., Ltd., a leader in multimedia medical education and publishing, is pleased to announce release of another title in the series of its CJP Interactive Updates™, Interactive Updates in The Use of Stem Cell Mobilization for the Treatment of Blood Related Cancers
Autologous hematopoietic stem cell transplantation (aHSCT) is a well-established treatment for hematologic malignancies such as multiple myeloma (MM) and non-Hodgkin lymphoma (NHL). Various changes in the field over the past decade, including the frequent use of tandem aHSCT in MM, the advent of novel therapies for the treatment of MM and NHL, plus the addition of new stem cell mobilization techniques, have led to the need to reassess current stem cell mobilization strategies. This interactive educational iBook activity will provide a review of stem cell mobilization strategies and algorithms in treating patients with multiple myeloma and non-Hodgkin lymphoma, and the pharmaco-economics of engaging in stem cell mobilization to optimize patient outcomes. Learners will have the opportunity to view and respond to patient cases to help understand the relevance of current evidence to practice.
Grand Rounds in Hematology: Interactive Updates in the Use of Stem Cell Mobilization for the Treatment of Blood Related Cancers :
John F. DiPersio MD, PhD (Editor)
Identifying Patients at Risk: Predicting Poor Stem Cell Mobilization
Edmund K. 'Ned' Waller, MD, PhD, FACP
Stem Cell Mobilization Strategies for Myeloma and Non Hodgkin Lymphoma
Sergio A. Giralt, MD, FACP
Allogeneic Stem Cell Mobilization
John F. DiPersio MD, PhD
Mobilization Algorithms to Optimize Patient Outcomes
Luciano J. Costa, MD, PhD
Pharmacoeconomics of Stem Cell Mobilization Strategies
Luciano J. Costa, MD, PhD
Future Novel Approaches for Stem Cell Mobilization
John F. DiPersio MD, PhD
Download on the Apple® iBookstore
If you are using a PC computer please download a PDF verison of the full iBook.