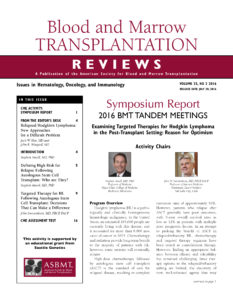 \Click here to download PDF.
Relapsed Hodgkin's Lymphoma: New Approaches for a Difficult Problem
Jack W. Hsu and John R. Wingard, University of Florida College of Medicine, Gainesville, FLHodgkin's lymphoma is a rare, highly curable lymphoma with a worldwide incidence of 66,000 cases per year. Over 80% of patients are cured with modern therapies. For the approximately 20% of patients with relapsed or refractory disease, there is no standard therapy. The typical paradigm involves salvage chemotherapy followed by stem cell transplant. Unfortunately, for patients with relapsed Hodgkin's lymphoma, the success rate for cure is low, ranging from 25% to 40%. For patients who relapse after transplant, the options for treatment are very limited.
There is optimism, however, for patients who have relapsed Hodgkin's lymphoma. Use of FDG-PET scans prior to transplantation can help identify patients who may require more intensive chemotherapy to optimize their disease status prior to autologous transplant. New prognostic models of factors present either before or after autologous transplantation can identify patients who will respond well with autologous transplant and allow patients who are predicted to respond poorly.These will allow clinicians to avoid ineffective therapy and identify patients who may benefit from novel approaches.
Increased understanding of the pathophysiology of Hodgkin's disease has also led to the development of targeted therapies which can improve the outcomes of high risk patients after autologous transplant. The ATHERA trial was the first trial to show improvement in progression free survival with maintenance therapy after autologous transplant. New drug classes, such as PD-1 inhibitors, either alone or in combination with chemotherapy or with other targeted therapies, hold promise to improve the survival of patients with relapsed disease.
In this transcript of a a satellite symposium held in February 2016 at the Tandem BMT meeting in Honolulu, HI, Dr. Stephen Ansell discusses the prognosis of patients with relapsed Hodgkin's disease and the new prognostic models developed to identify high risk patients before and after transplantation. Dr. John Sweetenham discusses new salvage therapies that are available for patients with relapsed Hodgkin's disease. Relapsed Hodgkin's disease, especially after autologous transplant, is an important unmet medical need in oncology. Our increased understanding of the pathophysiology of Hodgkin's disease and how to risk- stratify our patients is allowing for greater precision in effectively treating this disease. The development of targeted therapies is bringing new hope for patients in this especially difficult to treat population.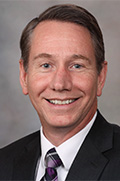 Stephen Ansell, MD, PhD
Professor of Medicine
Mayo Clinic College of Medicine
Rochester, Minnesota
Stephen M. Ansell, MD, PhD, is a consultant in the Division of Hematology, Department of Internal Medicine, at Mayo Clinic in Rochester, Minnesota. He holds the academic rank of professor of medicine, Mayo Clinic College of Medicine. He received his medical degree at the University of Pretoria, South Africa, and subsequently completed his PhD at the same institution. He trained in medical oncology before coming to the United States. Dr Ansell then completed a residency in internal medicine and a fellowship in hematology and oncology at Mayo Clinic.
Dr Ansell's clinical practice interests focus on non-Hodgkin lymphoma, Hodgkin disease, and Waldenström macroglobulinemia. His research focuses on the biology of these diseases and on developing new therapies. He receives funding for research from the National Institutes of Health, the Leukemia and Lymphoma Society, and the International Waldenström's Macroglobulinemia Foundation.
Dr Ansell is chair of the Mayo Clinic Lymphoma Group as well as chair of the Faculty Development and Recruitment for Hematology at Mayo Clinic. He has been honored with various awards during his training and career, including the Department of Medicine New Investigator at Mayo Clinic and Medical Honoree at the Lymphoma Research Foundation, Minnesota Chapter. He has held memberships with organizations including the American Association for Cancer Research, the American Medical Association, the American Society of Clinical Oncology, and the Eastern Cooperative Oncology Group. He has served on the editorial boards of the American Journal of Hematology, Journal of Clinical Oncology, Blood Cancer Journal, and Clinical Lymphoma and Myeloma. Dr Ansell has co-authored more than 234 articles in peer-reviewed journals.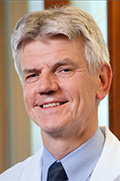 John W. Sweetenham, MD, FRCP, FACP
Professor of Internal Medicine
Huntsman Cancer Institute
Salt Lake City, Utah
John W. Sweetenham, MD, FRCP, FACP, is executive medical director and senior director of clinical affairs at Huntsman Cancer Institute in Salt Lake City, Utah. He is also a professor of medicine in the Department of Hematology at the University of Utah.
Dr Sweetenham's clinical research focus is on malignant lymphomas and the use of stem cell transplantation. He has been principle investigator on national and international trials in lymphoma and is currently a core committee member of the Eastern Cooperative Oncology Group (ECOG) Lymphoma Committee and ECOG national principle investigator for studies in Hodgkin lymphoma. He serves as chairman of the Clinical Trials Committee of Leukemia and Lymphoma Research, UK.
Dr Sweetenham attended medical school at St. Bartholomew's Hospital in London, United Kingdom, and trained in oncology at the University of Southampton, United Kingdom. He has served as director of the Hematologic Malignancies and Blood and Marrow Transplant Programs at the University of Colorado in Boulder, associate director for clinical research at the University of Arizona in Tucson, vice chairman for clinical research at the Cleveland Clinic Taussig Cancer Institute in Ohio, professor of medicine at the Cleveland Clinic Lerner College of Medicine, and medical director of the UCSD Nevada Cancer Institute in Summerlin, Nevada.
Thank you for participating in the CME activity. In order to obtain 1.0 AMA PRA Category 1 Credit™ you must:
Read the learning objectives;
Read the articles and study the tables and figures in this publication;
Register and complete this posttest online;
Complete the application for CME credit and the activity evaluation form online.
For CME credit, visit Medical College of Wisconsin. Immediately upon passing the online test, you will get your certificate via email.